Clise Mansion Photo Shoot
Posted by Joanna on March 4, 2009 at 2:45 pm
Back in January a group of local photographers (fabulous photographers if you ask me) rented out Clise Mansion for the day to host their own private photo shoot. They got an amazing foggy day and the photos turned out great! This photo by Lauren Max even made it on the front cover of The Stranger. Hit "Read More" to see some more from this marvelous photo shoot.
By: Lauren Max
< Read More >
Our Annual Wedding Showcase – Robinswood House
Posted by Joanna on March 3, 2009 at 11:11 am
Funny story. I love taking photos; I have thousands upon thousands of photos on my computer and I am in charge of taking photos whenever my friends and I do something fun. I also am in charge of writing this blog so you would think I would be the one on top of taking photos of all of the amazing displays at our open house. Wrong. About 10 minutes after everyone had cleaned up I had realized I hadn't taken any photos. Thankfully Sherrill was able to snap a few when we weren't crazy busy. Thanks Sherrill!
Epicurean Catering: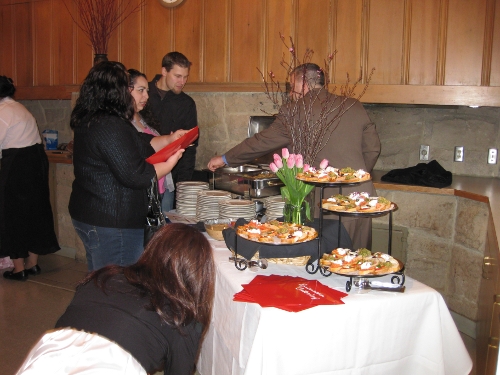 < Read More >
Our Annual Wedding Showcase – Clise Mansion
Posted by Joanna on March 3, 2009 at 10:30 am
This past Saturday we hosted all 8 of our caterers at Clise Mansion and Robinswood House to give our brides a taste of what they have to offer. Penny (our amazing corporate sales coordinator) went around and took photos of all of our incredible displays at Clise Mansion since I was over at Robinswood House.
ABC Rentals:
< Read More >
The Cronquist/Barnette Wedding
Posted by Joanna on February 24, 2009 at 3:17 pm
Bride and Groom: Ashley and James
Wedding Date: September 22, 2007
Ceremony: In the backyard
Caterer: Act 3
Photographer: Artis Photography
Guest Count: 145
I just got these great shots from Rachele over at Artis Photography, enjoy!
< Read More >
The Alderson/Avni Wedding
Posted by Joanna on February 19, 2009 at 9:00 am
Bride and Groom: Kelly and Ben
Wedding Date: October 14, 2007
Ceremony: Clise Mansion Backyard
Photographer: Jen and Jody Photography
Guest Count: 150
Kelly and Ben got married on a beautiful October day in the backyard of Clise Mansion. Who knew October was so great for outdoor weddings in Seattle!
< Read More >