Date:  February 6th, 2010
Caterers:  All 8 of our select caterers
Photography:  Penny (Seattle Bride staff member)
What a success! We were blessed with a beautiful sunny day for our Annual 2010 Seattle Bride Wedding Showcase. All 8 of our wonderful caterers where on-site providing an array of delicious samples. Luckily we were able to snap a few photos before the doors opened to share with those of you who couldn't make it. There's always next year!
What a beautiful display by Countryside Floral & Garden in the Veranda!
ACT 3 had quite the spread. 
Design Perfect always brings in delicious chocolate covered strawberries. They decorate them to look like little tuxedos by using both white and dark chocolate. Yummy!
Epicurean Catering had an amazing fruit and cheese display. It was almost too pretty to eat!
I love the organic nature of Herben Feast's food. They always do such a great job with their presentation.
Joanie's Catering has an awesome staff. They are always so great to work with, not to mention how awesome the food is.
Welcome the newest addition to our preferred caterers list: Landau's Catering! This was the first time I got to taste their food and I was definitely impressed.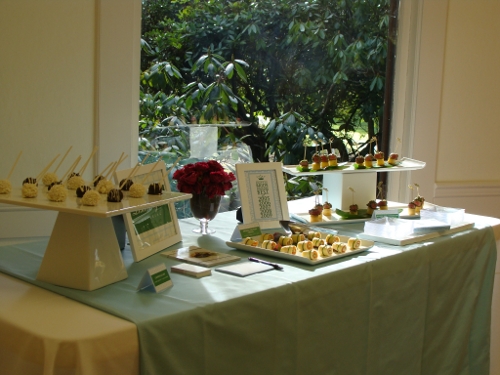 Lisa Dupar makes these AMAZING coconut balls! Once you have one, you have to have another and another. I speak from experience.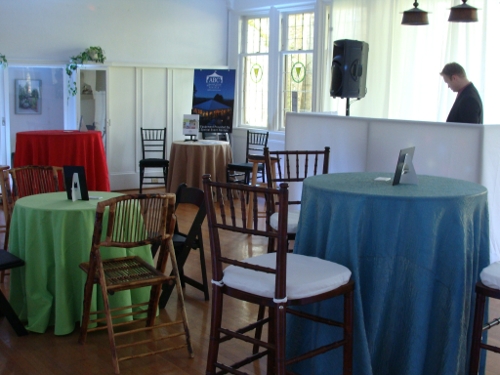 In addition to our wonderful caterers, Sounds Unlimited setup a DJ's station with awesome lighting effects in the Billiard's Room. This picture doesn't do it justice, but it's amazing what they can do with lighting. We also had ABC Rentals setup some tables with different colored linens and chairs. There are so many options for decor and ABC Rentals has an awesome selection to choose from.
Special thanks to all of the vendors who participated in our Showcase this year!